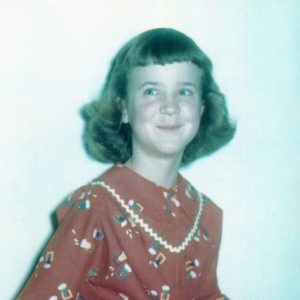 I remember a time when my dad and I were driving to Tucson together in his new truck. We were listening to the radio and Christmas songs were playing. A familiar song, "Blue Christmas" by Elvis started to play. I looked over at my dad, and he was teary-eyed. He started to cry a little and said "It will be a blue Christmas without you." This was the first time I felt the confusing nature of grief during the holidays.
My mom loved this time of year and it showed throughout our home. Decorating involved the process of removing all of the pictures on the wall and replacing them with holiday themed needlework, photos, and nativity prints. She had two trees- one kid-friendly and another with blues, silvers and golds. She set up several nativities throughout our home reflecting the true meaning of the season. The house and trees outside were decorated with colorful lights. It was magical.
She is my angel in so many ways, and bringing joy and happiness during this time of grief is one of them. Thank you, Mom for watching over my sweet Ashley, and for helping us get through this season without her.